mdcpickandplace:equipment
Table of Contents
Budgeting for a pick and place
This is going to be the toughest part. You'll need to justify the expense of having a pick and place since it's not really something you want to have around just for looks. The cost will probably run you somewhere between $25k-$30k depending on the options and feeders that you get. It's obvious that it can save you time, but will it be worth the expense?
Most people look at a machine like this and think that its a huge expense. In reality, it's called a capital investment, which means that its an expense that might actually generate income. So you need to assess if you think it can help you generate enough income to pay for itself. If you take out a loan for the cost of the machine and tried to pay it back over 2 years, you'll probably end up paying about ~$1500 a month after interest. If you think having a machine like this can help you generate that kind of monthly income, then you may want to consider it. If you haven't opened up a store yet, don't have the money to pay for the machine without going into serious debt, and haven't established that you can sell what you're making with it, then I would probably recommend against getting the machine at this time. However if you're already doing that kind of revenue on your boards, but find yourself spending all your time on assembly (or spending a lot of money on getting them assembled outside), then you may want to consider purchasing a pick and place machine.
So one way to calculate it is take the cost of assembling boards at a different company, then multiply by the number you think you'll do. If this number is x2 the price of the machine, then it may make sense. A lot of time (and money, if you're hiring a manufacturer) is spent setting up the machine so if you have time to spend configuring the pick and place that can also benefit you. However, you may want to start out by hand-assembling boards to see if it makes sense for your company.
| | |
| --- | --- |
| item | price |
| machine + computer + 5 feeders | $25,000 |
| xtra feeders | $5,000 |
| compressor | $1,500 |
| machine table | $300 |
| total | $31,800 |
We got 6 more 8mm feeders (for 11 total), 3 x 12mm feeders, 3 x 16mm feeders, a 24mm feeder and the tube vibrator (chip jiggler!) - and ditched the waffle tray holder - for $5000 ($30,000 total)
Air freight for the pick and place from Japan should be 'free' as it is included in the price. The crate is about 4' x 4' x 4' and weighs 350 lb so if you need to haul it around make sure to get quotes first
Or...
Get one of these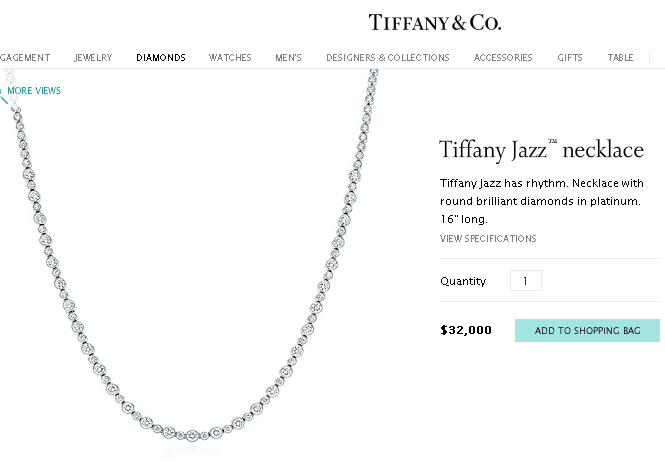 However, its probably tougher to deduct a diamond necklace than it is for a large machine
Where to buy
We are in the USA so we bought our machine from Manncorp, it was made by MDC in Japan, Manncorp sells in the USA, as well as all over the world - the other MDC distributor is Mekko based out of the UK. If you buy from Manncorp, tell them Adafruit sent you, they said they'd give us a free feeder (yay feeders).
If you've bought a pick and place machine, post your comments and experiences below.
---
Comment from a MDC customer 11/11/2009 - "You can also deal directly with MDC and if you decide to purchase from them, they can probably provide more flexible pricing. When they deal with a distributor, pricing is less flexible because the distributor needs to make a margin of a couple thousand dollars as well. I've already recommended another person to deal directly with them. If they can't undercut their disti pricing, then you can work with them on discounting the feeders which are usually overpriced through distributors".
What machines did we look at?
We had a pretty strict budget of $30K USD (which despite being a huge amount is still very small). Because of our small budget, we had only a few options
Why did we go with MDC?
What to look for when buying a pick and place
Price - whats your budget? You can spend as little as $10k for a 'non-automatic' placer - up to hundreds of thousands

Space - how big of a machine can you get? We have very little space and a floor that can't support hundreds of pounds.

Power - We don't have 220V so that limits what we can get

Software - can you use it? try to get a view of the software manual

Top Vision - Top/training vision is great for quick debugging and fiducial recognition

Bottom Vision - for placing fine pitch and leadless parts

Non-mechanical centering - Mechanical centering uses little tweezers to center parts. Personally we prefer non-mechanical centering - less to break and can be much faster

Feeders - in all sizes, tubes, trays must be OK.

Cut tape feeders - This may be an option for you if you are making very small run parts

Speed - how many parts can you place in a minute? For some this may be important!

PCB size - how small/big can the parts be?

Accuracy - Can it cope with 0201s? Fine pitch chips?
Buying new vs. used
You can save tons of $ by getting a used machine - a $60k 'MSRP' machine can go for 90% off! However, there are a few things to watch for when buying used machines
Does the machine work? Used machines may have problems with them that are hard to determine if you are inexperienced

Can you get feeders and replacement parts? Some machines are old enough that replacement parts are not sold anymore.

May you get feeders and replacement parts? If you bought used, chances are the manufacturer/distributor will not talk to you unless you 'register' the machine with them for a few thousand $. This of course totally varies by company and machine but it is not unusual

Is the tech modern enough? Older machines may not have bottom vision or any vision at all. Some can't pick and place parts smaller than 1206. They may have mechanical centering. Some must be completely text programmed with no training vision.

Can you get manuals and/or support? These are not simple machines to run, having access to people you can query is essential. There is virtually no information online for p&p operators. Again, the company may not support you if its a used machine unless you pay a fee.
For these reasons, we decided to start with a new machine. Our view was that since we had never run a pick and place before, its good to have a well documented and supported machine. If we were to purchase a secondary p&p, getting a used one from the same manufacturer would be a lot less risky.
/home/ladyada/public_html/wiki/data/pages/mdcpickandplace/equipment.txt · Last modified: 2016/01/28 18:05 (external edit)